Available Singles
None Yet...

Litters for Petz 3/4
Breeder's Name: silverfish
Breeder's Website: n/a
Breeder's Email: calcofox@hotmail.com
Litter's Breed: Keeshond
Breedfile Needed: Supernova (Keeshond)
Sire's Show & Call Name: Ch Rustica/Lakeshore Dreamers Of Dreams "Dream"
Link to Sire's PKC Profile: Profile
Dame's Show & Call Name: W1 Ch Fango's Broken Wings "Wings"
Link to Dame's PKC Profile: Profile
Version of petz, litter is for (P3/4/5): P3/4
Prefix litter should keep: Rustica
Any Extra Rules You'd like to add for your litter: Please offer me a puppy the first time you breed.
Anything Extra You'd like to share about this litter: These are unhexed 3rd generation pups. I expect them all to be shown to PKC Champion. If any turn out to be P-reg, please contact me and I'll provide an A-reg replacement.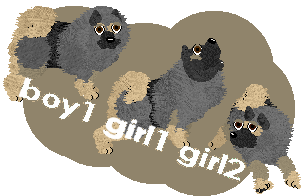 Boy1 - Available
Girl1 - Available
Girl2 - Available

Litters for Petz 5
None Yet...

Utility Breeds Low In Comp
Decided upon show with largest amount of entries at the time. Will list breeds with 4 or less.
1.28.12
American Eskimo (4)
Canaan Dog (0)
Dalmatian (4)
Danish Swedish Farmdog (3)
Finnish Spitz (4)
Japanese Akita (2)
Keeshond (1)
Lagotto Romagnolo (0)
Lhasa Apso (0)
Norwegian Lundehund (0)
Peruvian Hairless Dog (0)
Schipperke (3)
Shikoku (0)
Tibetan Spaniel (2)
Xoloitzquintle (2)

Have a litter you'd like to submit? Submit a litter Here
Please read the rules for adopting Here
Find a dog or puppy you'd like to adopt? Fill out the form below and email it to the breeder. If the breeder asks for additional information besides what's in the form, please fill that out too.
Adoption Form
Your Name:
Your Email:
Pet You want:
Experience with the breed:
Why & Plans for pet: