Available Singles
None Yet...

Litters for Petz 3/4
Breeder's Name: Katie
Breeder's Website: Pawzative Attitude
Breeder's Email: katiemerson@rocketmail.com
Litter's Breed: Tonkinese
Breedfile Needed: Supernova (Tonkinese)
Sire's Show & Call Name: Ch Pawz Take it From the Top "Thomas"
Link to Sire's PKC Profile: Profile
Dame's Show & Call Name: G2 Ch Pawz Harmonious Medley "Harmony"
Link to Dame's PKC Profile: Profile
Version of petz, litter is for (P3/4/5): Petz 3/4
Prefix litter should keep: Pawz Showname
Any Extra Rules You'd like to add for your litter: If you decide to breed, please offer me a kitten.
Anything Extra You'd like to share about this litter: M2 is only P-reg because he has grey eyes, but I still expect you to show him in companion.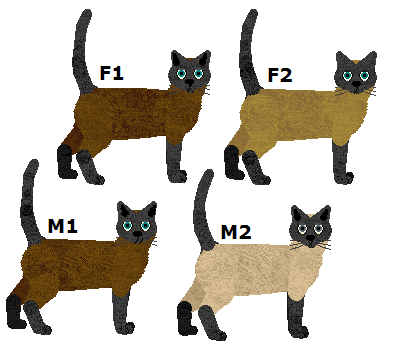 F1 Available
F2 Available
M1 Available
M2 Available

Litters for Petz 5
None Yet...

Semi-Foreign Breeds Low In Comp
Decided upon show with largest amount of entries at the time. Will list breeds with 4 or less.
1.28.12
Don Sphynx (1)
La Perm (4)
Tonkinese (2)

Have a litter you'd like to submit? Submit a litter Here
Please read the rules for adopting Here
Find a dog or puppy you'd like to adopt? Fill out the form below and email it to the breeder. If the breeder asks for additional information besides what's in the form, please fill that out too.
Adoption Form
Your Name:
Your Email:
Pet You want:
Experience with the breed:
Why & Plans for pet: